One of the main goals of TREMECA is to help millions of farmers out of poverty. To do so, we are reducing the supply chain by getting the products directly from the farmers and offering them a fair price for their products.
Client's request to TREMECA
Let us know what products you are looking for, in what quantities and where in the world you want to get it;
Contact with suppliers
We get to work to find you the best price quotations with our large variety of suppliers to make sure we can offer you the best option;
Negotiation with suppliers
Once we get the best price for you, we manage payment to the supplier and the logistics of delivering the product;
Storage in our warehouses
We are in charge of receiving and safeguarding the product in our warehouses until it is ready for shipment;
Shipment of the product
We make sure your product gets into the vehicle that will be taking it to your doorstep;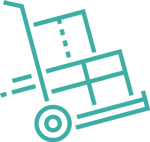 Delivery to the client anywhere in the world.
If you are interested in selling your products in Mexico we can help you with the entire logistics and import strategies by establishing a relationship with buyers for your product in Mexico. If you are a Mexican producer interested in selling and exporting your products abroad, we can advise you during the export process and expand your brand or enterprise into international markets with our extensive list of contacts.